EL MATEMATICO THE CHICKEN WIMPY CHICKEN:
(ORIGINALLY POSTED ON LIVEJOURNAL HERE)
RICHMONDERS OF RICHMOND VIRGINIA

THE LAST TIME I DECLARED MY AWESOMENESS TO YOU, YOU ALL AGREED AND GAVE ME CONGRATULATORY CONGRATULATIONS FOR BEING THAT WAY. BUT EL MATEMATICO CLAIMED THAT I DID NOT FIGHT HIM IN THAT LAST BATTLE, BUT INSTEAD FOUGHT AN IMPOSTOR. THIS IS OBVIOUSLY NOT TRUE BECAUSE I WILL FIGHT ANYBODY ANYWHERE ANYTHING ANYTIME ANYPLACE ANYHOW ANYPLANET ANYLANDMINE ANYUZI.
STILL, HE INSIST THAT I DID NOT BEAT HIM INTO A BEATEN ONE, SO HE DECIDE TO CHALLENGE ME TO A FIGHT. HE SAID THINGS ABOUT HOW HE WOULD HURT ME WITH HIS "JUSTICE" IN A BATTLE FOR HIS HONOR OF RICHMOND HERONESS. I LAUGH AND GLADLY ACCEPT TO FIGHT HIM AGAIN BECAUSE I ALREADY BEAT HIM BEFORE AND HE STAINED HIS PANTS YELLOW BEFORE FIGHT. THAT MADE ME LAUGH MANY DAYS.
SO TODAY I HEAD OUT MY AWESOME DOOR TO GO MEET EL MATEMATICO IN THE RICHMOND PARK TO DO BATTLE AND I FIND A LETTER ON MY DOORSTEP WHICH IS EQUALLY AWESOME AS MY DOOR ITSELF.
LOOK WHAT IT WAS: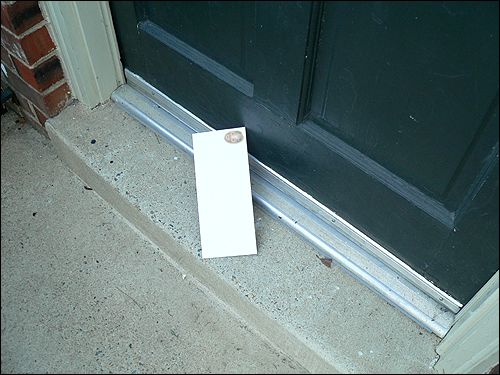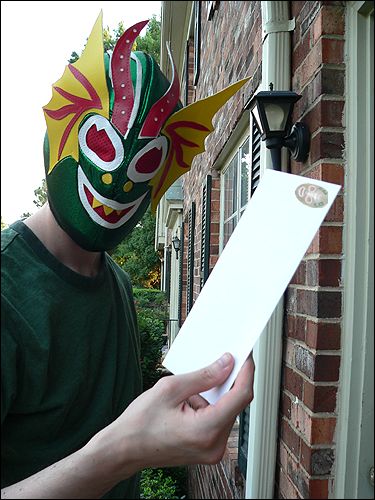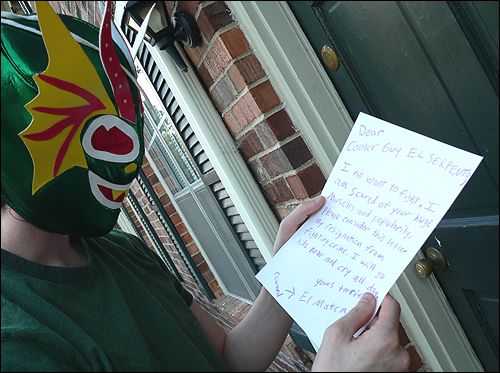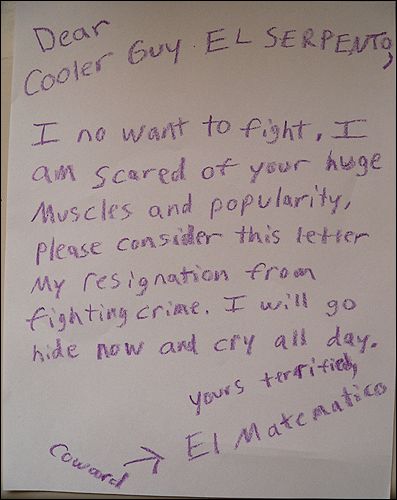 I NOT SURPRISED BY HIS LETTER BECAUSE HE WAS HURT SO BADLY LAST TIME. WHERE IS YOUR HONOR AND YOUR GLORY AND YOUR GRILLED CHEESE SANDWICH NOW EL MATEMATICO? I HAVE THEM ALL AND THEY ARE MINE TO HAVE UNTIL I DO NOT WANT THEM AND FEED THEM TO THE IGUANA. I ALSO HAVE MUCH BETTER STATIONARY. WITH GLITTER!
RICHMONDERS OF RICHMOND, YOUR HERO HAS ABANDONED YOU AND LEFT YOU TO CRY IN THE SHALLOW END OF YOUR KIDDIE POOLS WHICH I USE FOR #2 WHEN YOU ARE NOT AROUND.
EL SERPENTO'S CRIME WAVE OF CRIMINAL CRIME ACTS IS THE BEST!
CLICK TO GO BACK TO A PAGE THAT SEES YOU FOR THE BABY YOU ARE